A common approach to travel measures in the EU
The Council of the European Union adopted "recommendations" on a coordinated approach to restricting free movement within member states in response to the COVID-19 pandemic.
Thus, the members have agreed to contribute a series of data to the European Center for Disease Control and Prevention (ECDC), which will update weekly a European map of the coronavirus according to the incidence by regions, based on that information.
"This recommendation aims to avoid fragmentation, disruption, increase transparency and predictability for citizens and businesses," the Council said in a statement.
The Recommendation sets out four key areas where Member States will coordinate their efforts:
Common criteria
Member States will take the following key criteria into account when considering restricting free movement in response to the coronavirus pandemic:
the NOTIFICATION RATE (the total number of newly notified COVID-19 cases per 100 000 population in the last 14 days at regional level)
the TEST POSITIVITY RATE (the percentage of positive tests among all tests for COVID-19 infection carried out during the last week)
the TESTING RATE (the number of tests for COVID-19 infection per 100 000 population carried out during the last week)
 A common map
The European Centre for Disease Prevention and Control will publish a map of EU Member States, broken down by regions, which will show the risk levels across the regions in Europe using a traffic light system. Regions will be indicated in the colours 'green', 'orange', 'red' and 'grey'.
In this map, an area should be marked in the following colours:
GREEN , if the notification rate is less than 25 and the test positivity rate is less than 4%;
ORANGE, if the notification rate is less than 50 but the test positivity rate is 4% or more, or, if the notification rate ranges from 25 to 150 but the test positivity rate is less than 4%;
RED, if the notification rate is 50 or more and the test positivity rate is 4% or more, or if the notification rate is more than 150;
GREY, if not sufficient information is available or if the testing rate is 300 or less.
The map will also provide travellers with general information as to the risk level at their destination. Together with the information made available on the 'Re-open EU' web platform, travellers should be able to tell whether they can expect to be subject to certain measures if they travel to another region in the EU.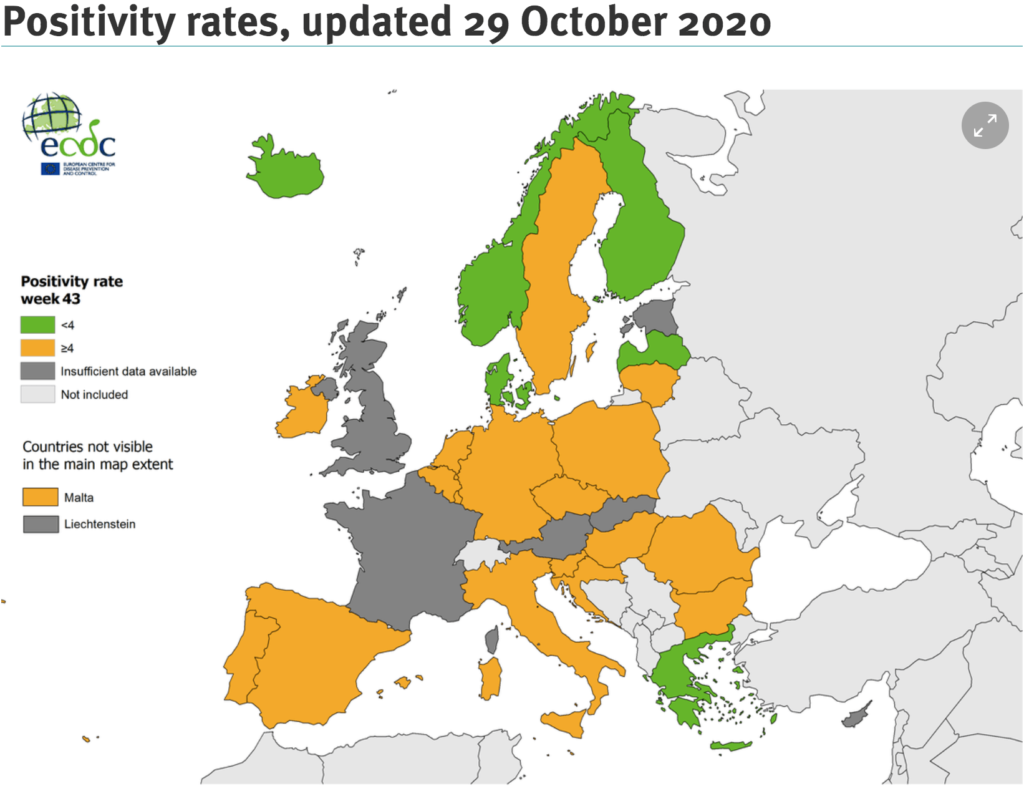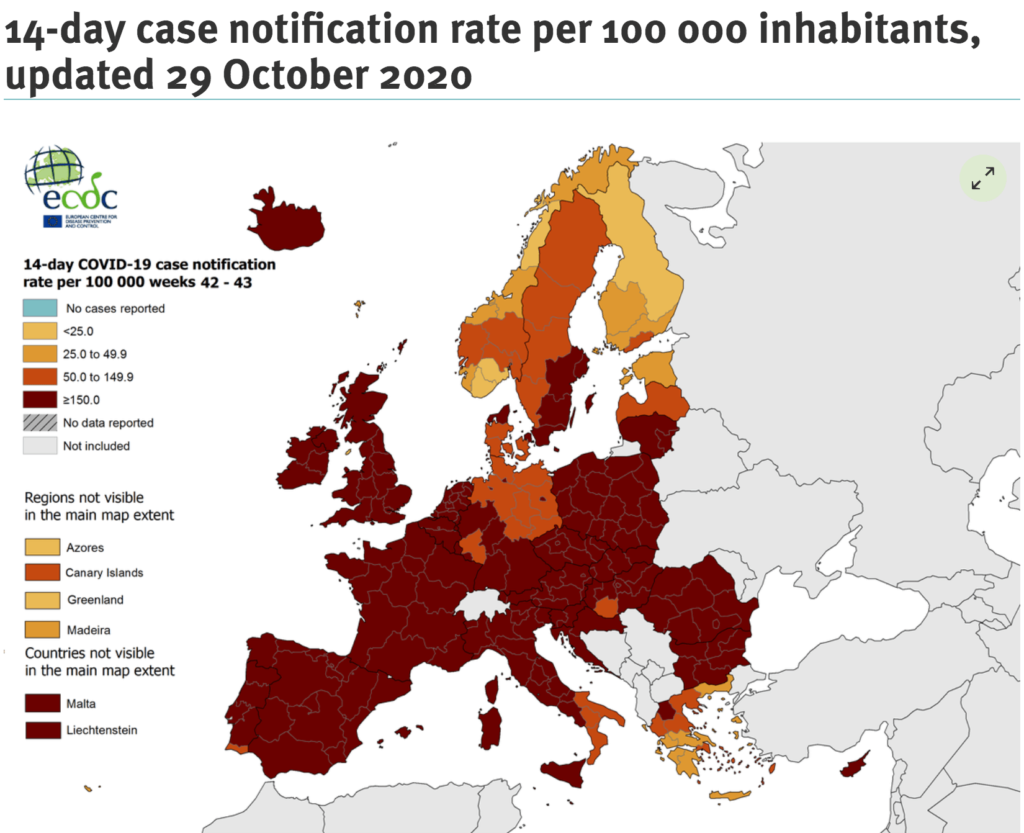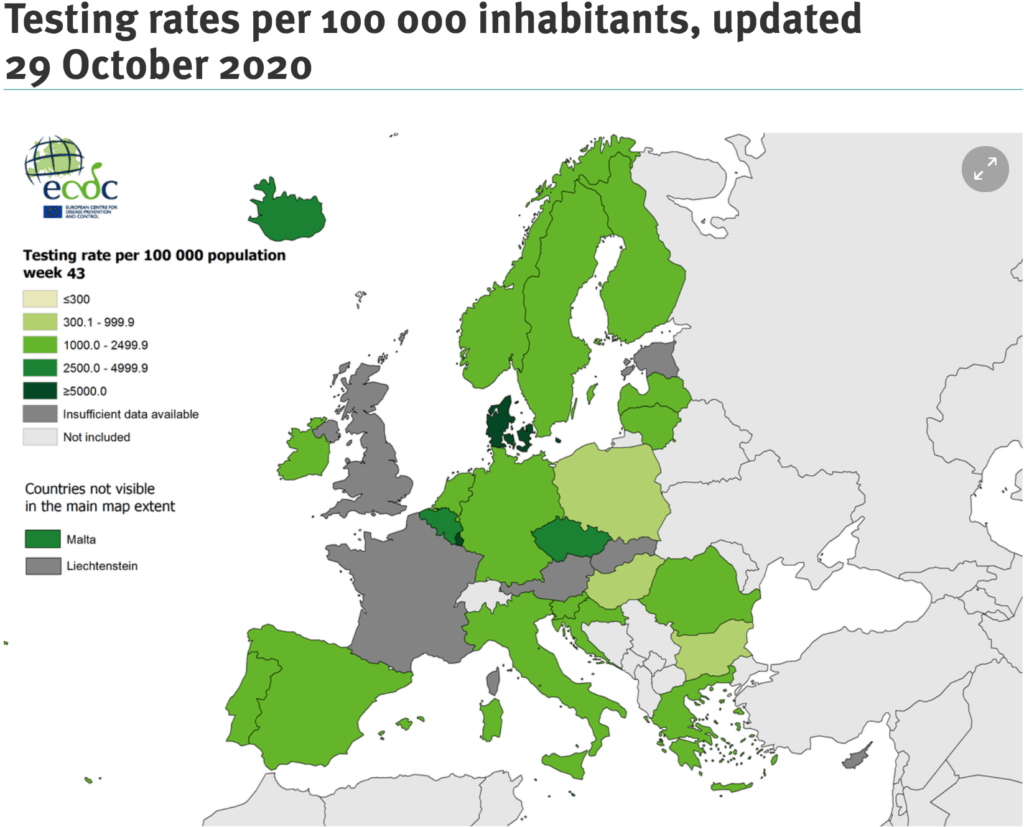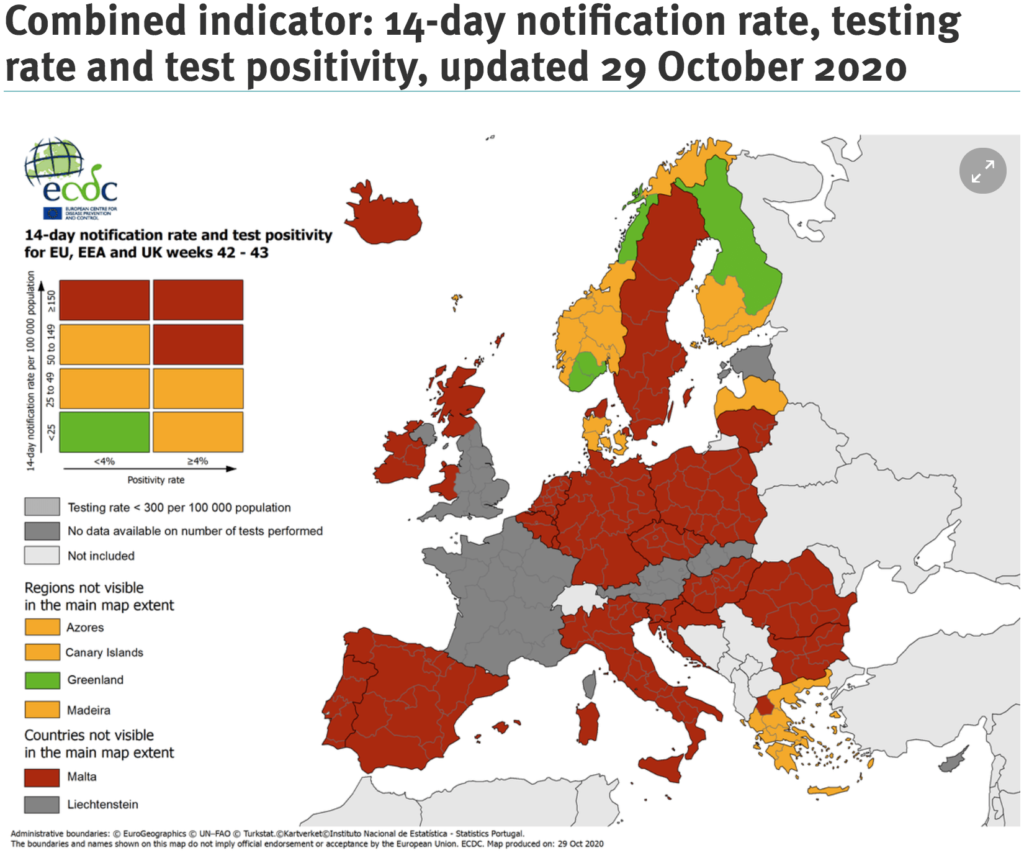 A common approach for travellers
Member States have agreed that there will be no restrictions, such as quarantine or testing, on travellers coming from 'green' regions.
Member States that consider it necessary to introduce restrictions to free movement, based on their own decision-making processes, could require persons travelling from an area classified other than 'green' to:
Submit passenger locator forms,
undergo quarantine; and/or
undergo a test for COVID-19 infection after arrival.
It is up to Member States to decide what measures to apply on people travelling from risk areas (orange, red or grey) to their territories. This means that some Member States will not apply any restrictions on travel within the EU, while others might decide to apply certain measures.
Travellers with an essential function or need will not be required to undergo quarantine. Click HERE to see the full EU article including the list of "essential funtions".
Clear and timely information to the public about any restrictions
Member States will provide details of upcoming restrictions to free movement or the lifting of travel restrictions to Member States and the Commission. These changes will also be published on Re-open EU. 
As a general rule, information on new measures will be published 24 hours before they come into effect.
You can also read our "Covid-19 Guide" for more information and maps or contact us!