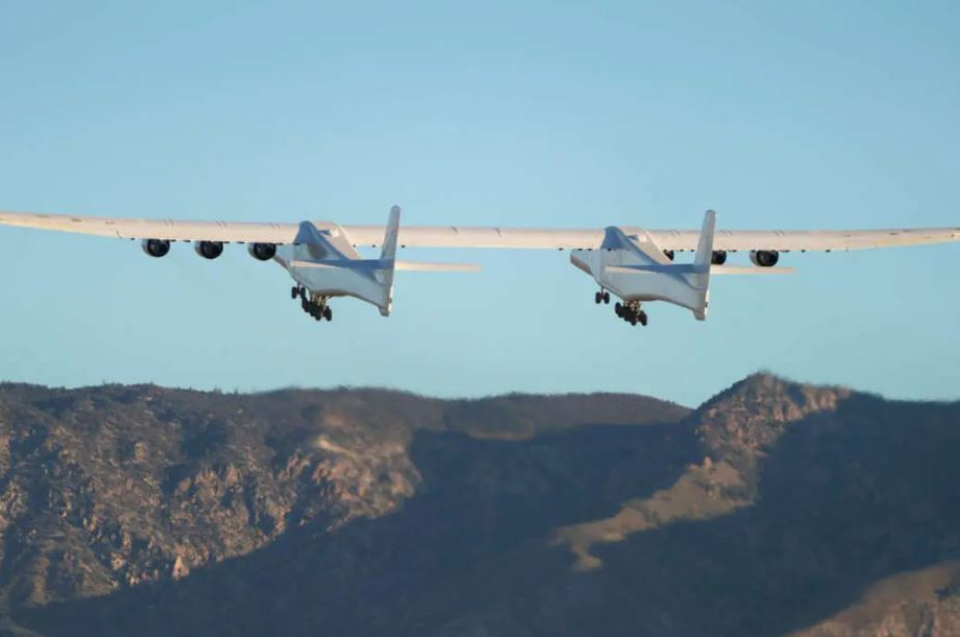 Aircraft with world's longest wings prepares for supersonic travel
The Stratolaunch looks like those fake airplanes that Photoshop virtuosos create to gain popularity in social networks. But it exists, it is a twin-fuselage aircraft joined by wings that span 117.34 meters; and it is having a unique opportunity to be resurrected.
This strange six-engine aircraft had made its debut in society in 2017, and after a test flight in April 2019, for two years it had been stored in giant hangars in the Mojave Desert.
THE PLANE THAT COULD BARELY TAKE OFF
It was originally conceived to be a satellite launcher, a more economical alternative to sending rockets into space that burn tons of fuel.
The death of Paul Allen, co-founder of Microsoft and one of its promoters, as well as the project's lack of viability, had condemned Stratolaunch to a dismal fate.
Stratolaunch's wings are 117 meters long. Photo Stratolaunch
But the fever for supersonic flight has brought it out of ostracism.
SUPERSONIC AIRCRAFT PLATFORM
The idea is that instead of satellites, it will be the launch pad for the Talon-A, a small aircraft that is not intended to carry passengers, but to conduct experiments on supersonic speed, to test the condition of materials when flying at more than 6,170 km/h.
Last Sunday the mammoth Stratolaunch successfully completed its third test flight, with a 4:23 hour trip over the arid California desert. It reached an altitude of 7,162 meters and reached a speed of 333 kilometers per hour.
THE ROAD TO A NEW STAGE
This flight served to test the control of the aircraft at higher altitudes and speeds, and the efficiency of its landing systems.
According to Zachary Krevor, president and CEO of Stratolaunch, the success of this test flight has been key to moving forward to the Talon-A test flights scheduled for this year.
The Talon-A will actually be two prototypes: the TA-0 and the TA-1. The latter has successfully passed its engine ignition tests, carried out in December, and will be the guinea pig for the flights to be carried out in 2022. Stratolaunch 's plan is to deliver the first units to governments and customers next year.
LARGER THAN THE LARGEST AIRPLANE
To get an idea of the size of the Stratolaunch, its wingspan is so long that each end could touch the goals of a professional soccer stadium.
The
Antonov An-225,
recognized as the world's largest aircraft, has wings that are 28.5 meters shorter than this twin-fuselage aircraft.
While the crew travels in the right-hand structure, the left-hand structure houses the control equipment.
Its six turbines belonged to old Boeing 747s, and to take off, the 24 wheels of its landing gear rotate at full speed along the 3.5-kilometer runway of the Mojave airfield.