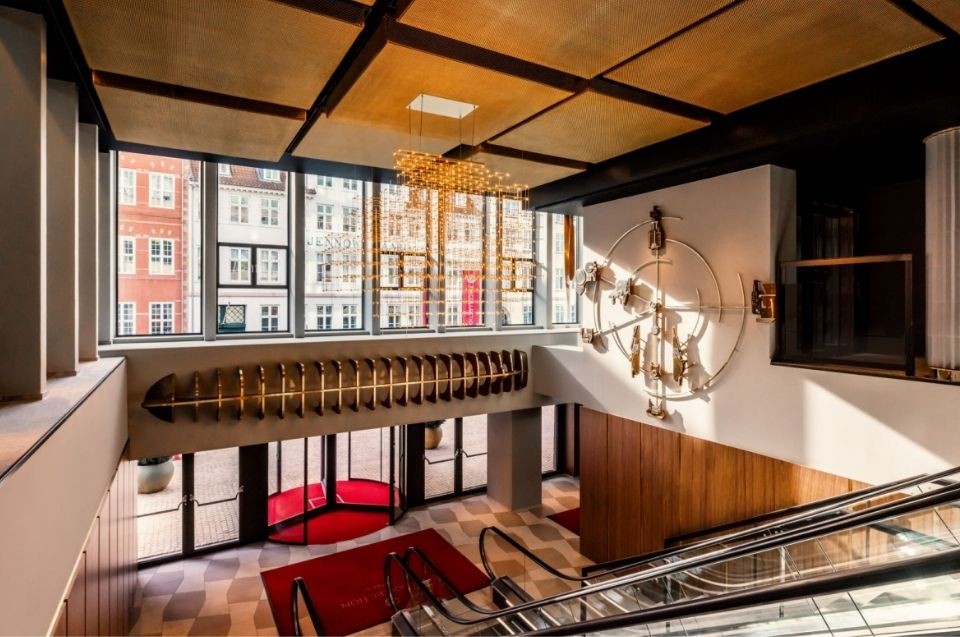 NH opens in Copenhagen its first 5-star hotel in Denmark
The chain NH Hotel Group has opened at Copenhagen on NH Collection Copenhagen, the first 5-star of the group on Denmark. Located in an emblematic building in the Christianshavn district, the establishment offers 394 rooms and suites in which the Scandinavian decoration floods all the spaces, mixing modern design details with comfort and functionality. Seven meeting rooms of different sizes with a capacity of up to 252 people, complete the proposal for leisure and business travelers.
The building that houses the property was designed by the modernist architect Palle Suenson in the 1960s. Initially, it was used as the headquarters of the B&W shipyard company and nowadays, the building is still in use. being a sample of the most outstanding architectural styles of the modernist period, with pure forms, straight lines and flat roofs, according to the chain.
The facade has been completely renovated by ATP Ejendomme, Arkitema Architects and Henning Larsen Architects, respecting the clear forms and straight lines of the original design by architect Palle Suenson.
The property has high standards of sustainability as evidenced by its roofs with sedum vegetation cover, the use of sea water to cool the building, the intelligent control of light and indoor climate or the choice of sustainable materials.
To carry out this work, sustainability has been taken into account, since a large part of the concrete structure has been preserved and the materials from the interior demolition have been used forthe construction of the façade simulating the original appearance of the building, explains the chain.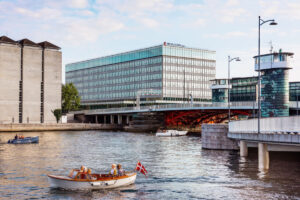 The NH Collection Copenhagen dining experience consists of two restaurants and a bar. Precisely, one of the chain's own gastronomic concepts, Tablafina, is present in the establishment bringing traditional Spanish tapas to the city along with a mix of local seasonal ingredients.
DESIGN
In the hotel lobby the attention is immediately drawn to the large piece by Danish artist Anna Bak, made of wood and brass, which recalls the maritime past of the building that housed the offices of the important B&W shipyard.
The interior design is inspired by the cosmopolitan and industrial climate of the city and its dynamic waterfront. The warm, friendly and eclectic tone meets Scandinavian craftsmanship and exclusivity through the use of high-end materials.
This character is perceived in the herringbone tiles, in the play of colours in the bathroom or in the specific design of the furniture throughout the hotel. The rooms have large windows that, in addition to the harbour views, provide plenty of natural light.
The interior has been designed by the Swedish firm Krook & Tjader and the final details are the work of the Spanish interior design and architecture studio TBC, who have worked on other projects such as NH Collection Munich Bavaria, NH Collection Amsterdam Flower Market and NH Collection Madrid Gran Vía.