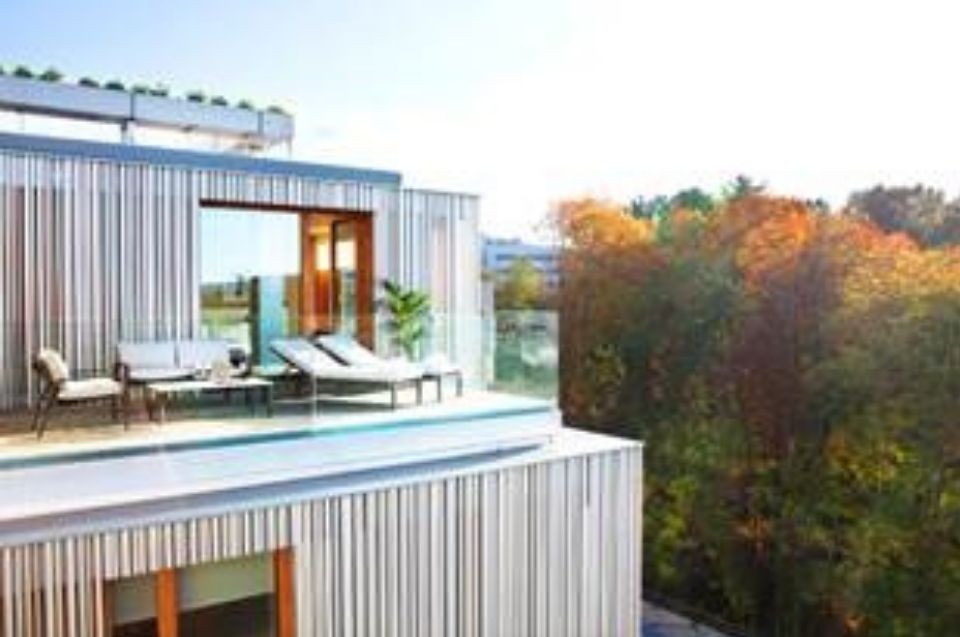 Small Luxury Hotels launches its new sustainable brand
Small Luxury Hotels of the World (SLH) announces the launch of the Considerate Collection, a community of ultra-sustainable luxury hotels that go beyond eco-friendly, proving that luxury is compatible with tradition.
The hotel brand, known for its diverse portfolio of boutique properties, announces new sustainable initiatives that are part of a renewed strategic vision to celebrate its 31st anniversary.
From the Tabacón Thermal Resort & Spa, in Costa Rica, which promotes biodiversity, to the Domaine de Manville, in France, focused on preserving culture, Considerate Collection debuts with 26 pioneering hotels in 16 countries, each meeting the highest sustainability criteria. In Spain, the Hotel Arima & Spa in San Sebastian and Torre del Marques in Monroyo (Teruel) stand out.
SLH has collaborated with the most respected spokespeople in sustainable travel and luxury hospitality to create a framework of trust and transparency.
SLH has collaborated with the most respected spokespeople in sustainable travel and luxury hospitality to create a framework of trust and transparency. Among them is the Global Sustainable Tourism Council (GSTC), an independent, non-profit international body created by the United Nations Environment Programme (UNEP) and the World Tourism Organization (UNWTO).Greenview, whose platform is the only sustainable tourism management tool recognised by the GSTC.
"We have carefully selected Considerate Collection properties to highlight luxury boutique hotels that are exemplary in their sustainability efforts.We are proud to announce the launch of Small Luxury Hotels of the World, making it easier for clients and travel agents alike to choose these options," explains Daniel Luddington, Vice President of Development for Small Luxury Hotels of the World. "Staying in small, independent hotels goes hand in hand with travelling sustainably and all SLH hotels are already steeped in the many facets of sustainable hospitality, so we didn't have to look far outside our portfolio for the launch of the collection. In addition, we have an exciting pipeline of new hotels that we will be adding in the coming months," he details, adding, "It's not about creating a new brand, but building on the core SLH values that have existed at SLH since its inception: independent spirits, community-focused, questioning, storytellers and with the ultimate belief that small is beautiful and a better way to travel."
The Considerate Collection criteria match those of the GSTC in three key pillars that ensure all hotels are community engaged, culturally sensitive and environmentally conscious. These pillars are underpinned by a robust sustainability management system.
Each of the Considerate Collection hotels have either been certified by a GSTC accredited certification body, by a GSTC recognised standard, or have passed an assessment conducted by the SLH Sustainability Advisory Group and reviewed by the GSTC.
Randy Durband, CEO of the Global Sustainable Tourism Council, said: "SLH has impressed us with their commitment to supporting their member hotels, and we are delighted to work with them to devise a robust framework, consistent with GSTC measures, but uniquely tailored to all luxury boutique hotels. We are confident it will be a great success.
Today, with a luxury hotel portfolio of more than 520 hotels in 90 countries, SLH has adopted a holistic approach to sustainability to complement its long-term brand vision: a future where people explore the world with intention, experience its intensity and protect its integrity. Over the past two years, SLH has worked with hospitality sustainability consultancy The Considerate Group to develop bespoke sets of plans to support its member hotels, and plans to continue this approach to "help our hotels on the path to becoming more sustainable," adds Luddington. H2 Sustainability Consulting, led by the legendary former hotelier Hervé Houdré, is one of the consultancies that SLH collaborates with to support member hotels.
The SLH quality inspection reports, conducted annually by its international inspectors (all of whom are SLH hotel guests), have also been revamped and are being considered to include a 50-point Considerate module focusing on guest-facing and front desk initiatives.
The company has also looked at itself to update its headquarters policies, making sure to put into practice what it preaches to its member hotels. This includes the implementation of volunteer days for staff and the start of a partnership with the social change and reforestation charity, TreeSisters, among other initiatives.