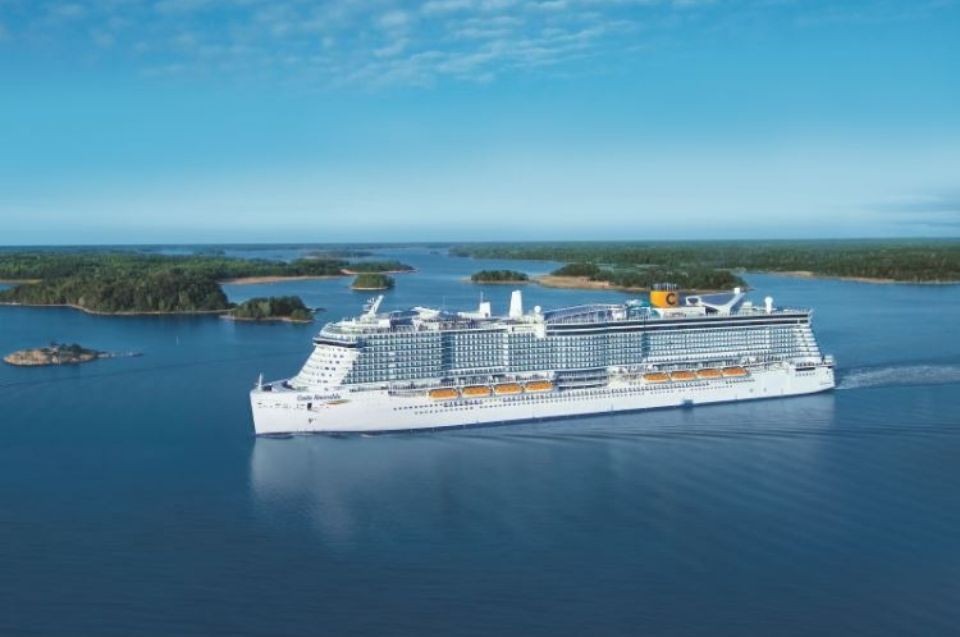 Costa Cruises presents its new Cruise&Golf offer
Costa Cruises, the Italian brand of Costa Group,has been named Official Cruise Line of the 2023 Ryder Cup, the most important team competition in golf, which will be held for the first time in Italy, at the Marco Simone Golf & Country Club in Rome, from September 29 to October 1, 2023.
In announcing this exclusive partnership, Costa Cruises is also introducing an amazing new offer designed specifically for golf enthusiasts and their families. The new "Cruise & Golf" formula will allow you to combine a truly unique golf experience with the relaxation and fun of a Costa cruise aboard the Costa Smeralda, the most innovative ship in the fleet. By booking "Cruise & Golf", golf enthusiasts will have the opportunity to play at some of the most beautiful clubs in Italy, France and Spain during the cruise itinerary stops. Meanwhile, families on vacation will be able to enjoy the onboard services or explore wonderful places thanks to the excursions organized by the company.
"Our vacations are geared towards offering unique and enriching experiences, and the combination with golf fits perfectly with this philosophy. To achieve our goal of becoming the company of choice in the world of golf, we have come up with a special, never-before-seen initiative. Our partnership with the Ryder Cup 2023, one of the world's most popular sporting events, will allow us to reach out to all golf enthusiasts, while our new "Cruise & Golf" formula will offer them and their families a vacation that combines the best of golf with the best of cruising" – he said. Roberto Alberti, SVP & Chief Commercial Officer of Costa Cruises. "Cruise & Golf will also help promote the golf clubs in the countries visited and, in general, represents an opportunity to promote local tourism, considering that 6 out of 10 passengers state that they want to return to the places visited during the cruise."
Will be available from May 2022 on week-long Western Mediterranean cruises
Costa Cruises ' new"Cruise & Golf" offer will be available starting May 2022 on week-long Western Mediterranean cruises visiting Savona, Marseille, Barcelona, Palma de Mallorca, Palermo and Civitavecchia/Rome. Reservations will be open as of February 1, 2022. To take advantage of the new offer, guests simply need to book a cruise on the Costa Smeralda and then add to your reservation one of the two golf packages, which include three or four green fees respectively, to access some of the most famous and popular golf clubs in the Mediterranean.
Costa Cruises' "Cruise & Golf" formula will allow golf enthusiasts to enjoy an authentic "golf made easy" experience. In fact, in addition to the Green Fees, the formula includes a series of special services designed to allow guests to fully enjoy the golf and cruise experience, with every comfort. For example, an exclusive transfer from the ship to the golf club and vice versa, priority embarkation and disembarkation at the beginning and end of the cruise, personalized transportation and storage of golf equipment on board, and a welcome kit in the stateroom.
Not surprisingly, its exclusive wellness experiences, as well as the golf and croquet courses, stand out. It is committed to wellness and the slow philosophy, with a complete proposal of treatments in the eight cabins and water circuit of its YHI Spa and an exclusive 360 program, "Signature Wellness Program designed by SUDA Experience", for body and mind training.
But the hotel also wants to be inviting, as its director emphasized, María Bohorquez, "to live a unique stay in the destination, to explore the local culture, gastronomy, people and nature. Buenavista del Norte is one of the most exotic and unknown areas of the island, and from the hotel we want the traveler to get to know it on foot or by bicycle, immerse himself in its wine culture and nourish himself with all its wealth with experiences that will become part of your inner landscape".
Biking and hiking trails, boat trips and horseback riding, among other experiences, make Hacienda del Conde an "Exclusive Leisure" destination, oriented to wellness and based on the natural environment.
GASTRONOMY AND GOLF
On the gastronomic front, the haute cuisine and avant-garde restaurant Salazar, as well as El Pandano Pool Bar, La Tasca and Buenavista -with a buffet concept for breakfast and dinner- promote zero kilometer products and healthy dishes, as well as recipes that incorporate flavors from around the world.